MATERIALS:
Metals, copper, brass, wrought iron, silver, brass and gold, concrete, some vintage items, satin fabric and wire.
TABLE CENTRE
We dressed the trellis table using mushroom and heron satin fabrics, brick pots, metal wire baskets filled with moss and flowers and frame work with bulbs, submerged calla lily in, many candle sticks of different sizes metals and black and cream candles. To finish the look we added copper chargers and Moscow mule cups.
STYLING
Stacked steamer trunk and brown vintage case, with poison bottle, dinosaur skull, and metal globe. Next to our vintage deli bike filed with flowers, foliage and lights, a metal wire table plan with slate find your seat and table numbers our patina LOVE letters bring to life this industrial feel
MOONGATE
We Stripped back our moongate for this shoot back to wrought iron metal with its touch of patina we added a big flower display to the top and sting lights and cogs to finish this look.
BRIDE
Our stunning bride wore her own designed black gown gold embroidered tulle skirt with a faux leather bodice, the bouquet we chose was a large wild hand-tied style with cascading flowers coming out colours for this were oranges, burgundy, purples and blues.
FLOWERS AND COLOURS
Colours We chose a blue, orange, burgundy and purple colour pallet for this look. For the flowers we used burgundy antirrhinums, burgundy amaranthus, blue eryngium, purple and orange callas and red oak leaves.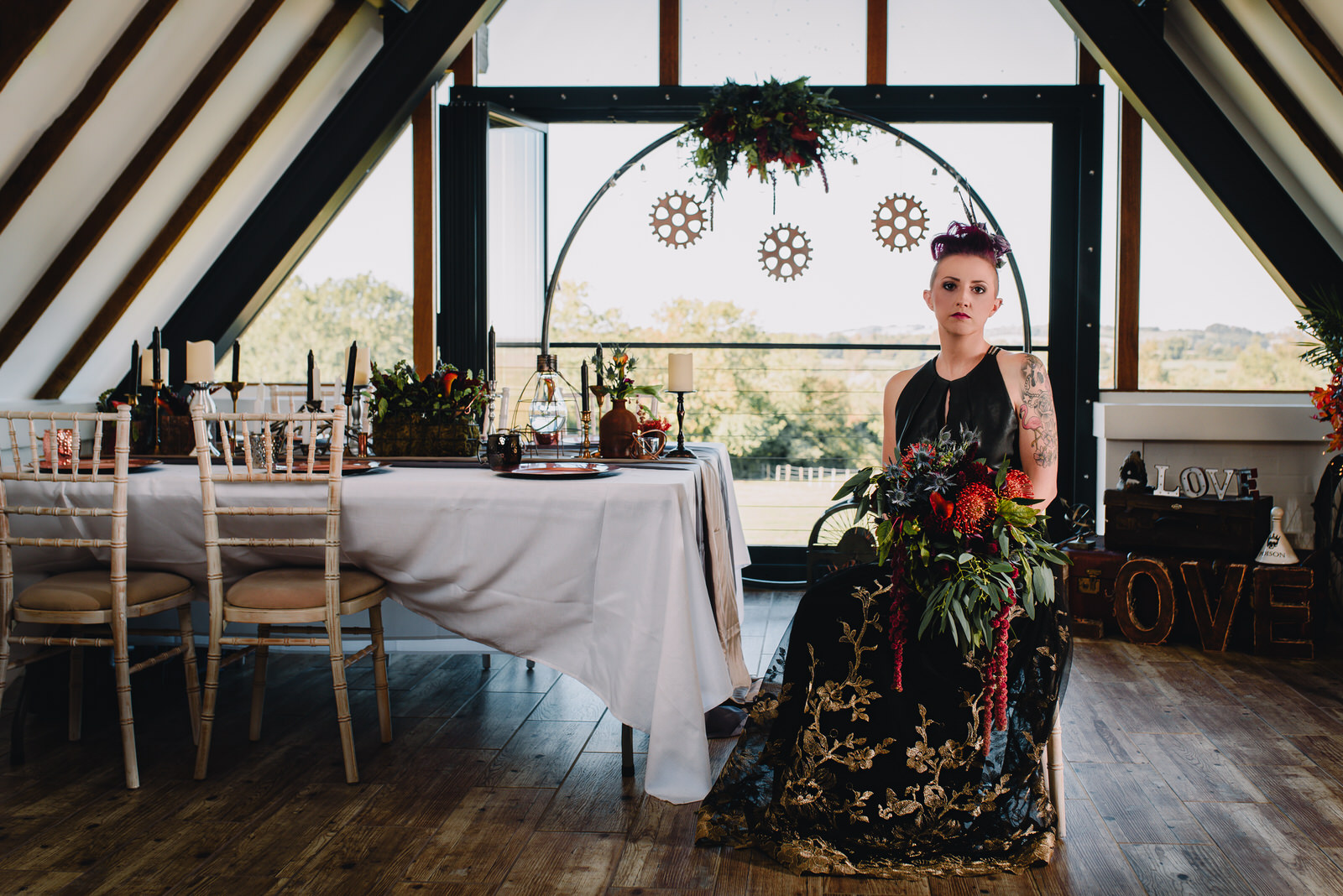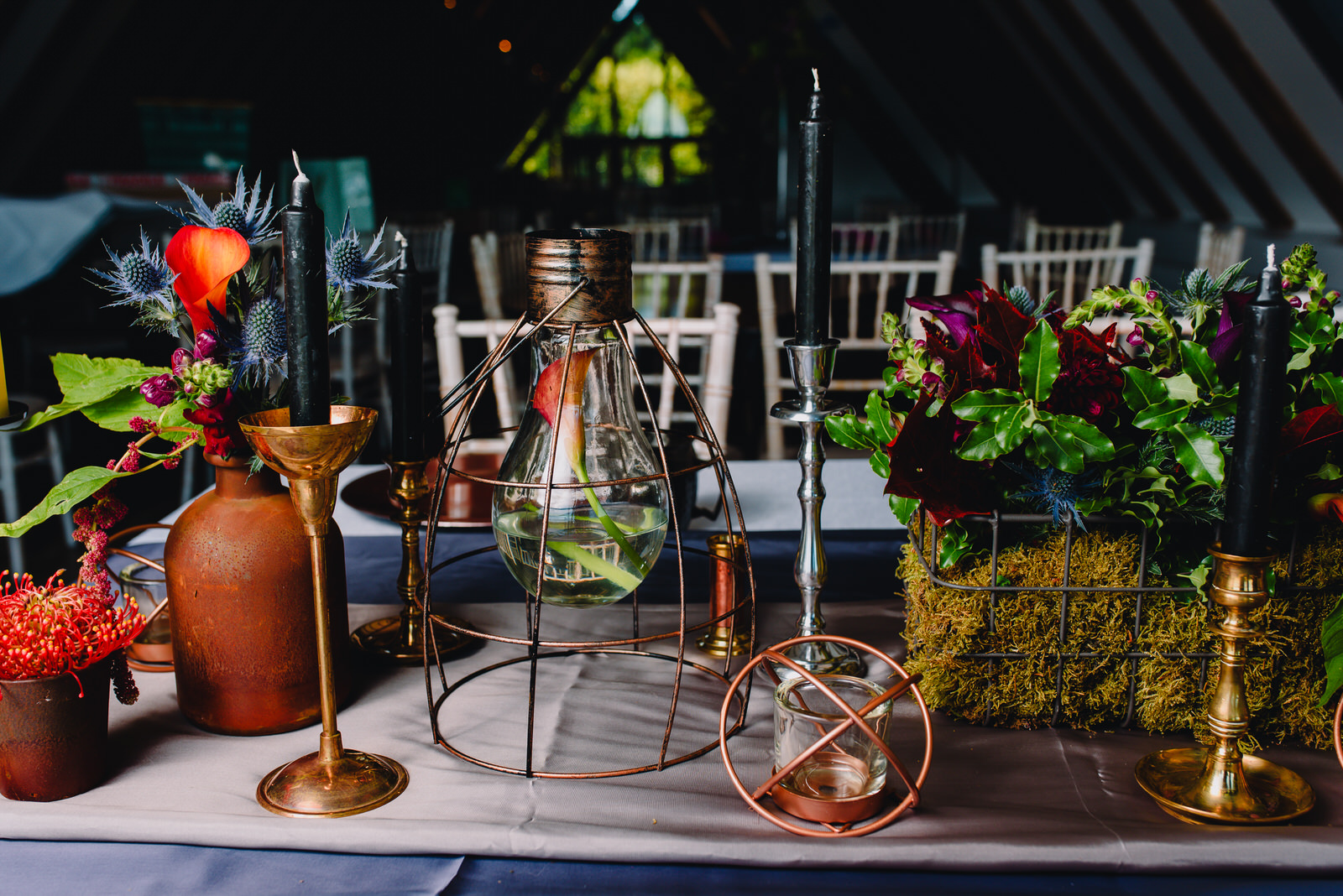 hippy | adventurer | wild | bohemian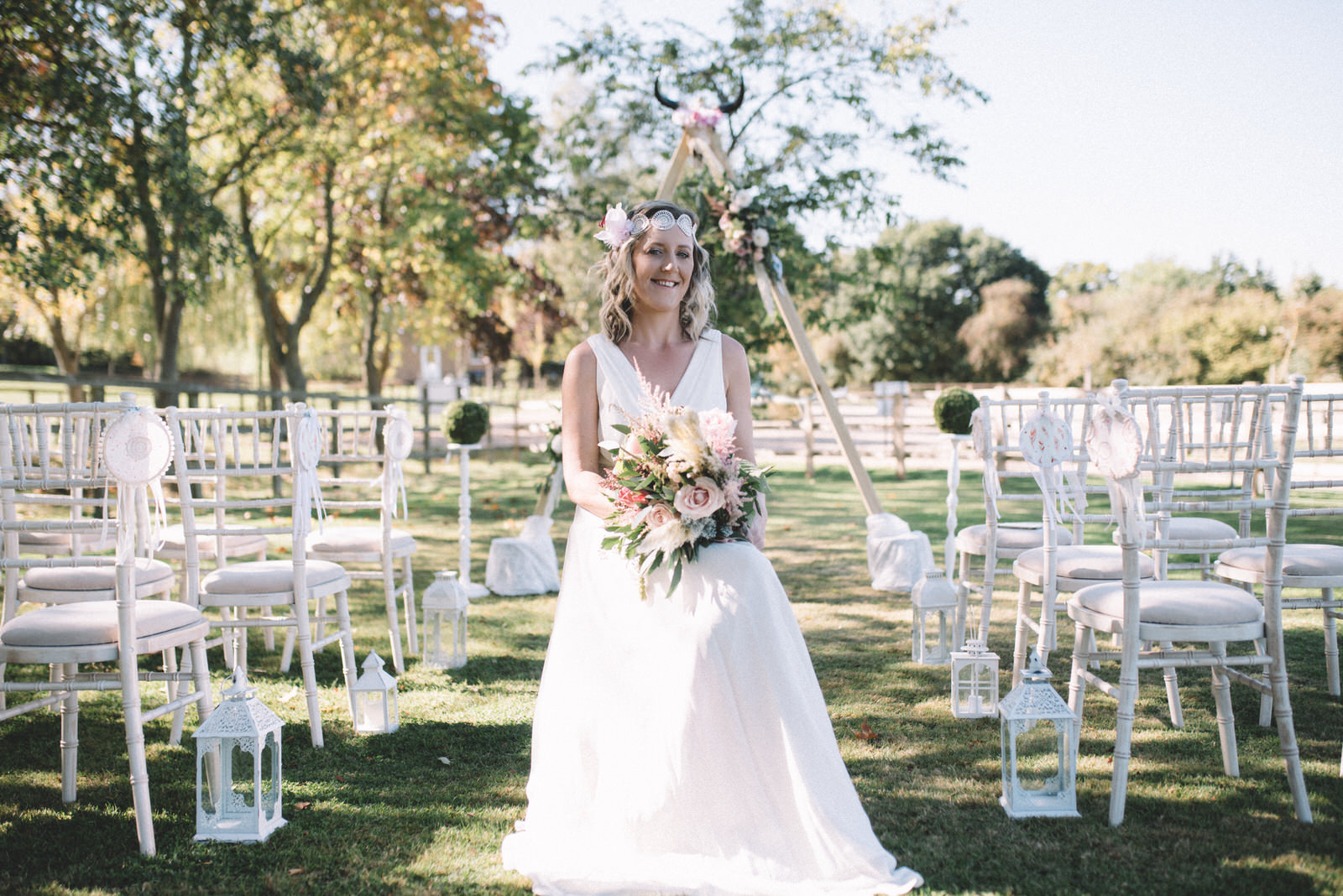 Ceremony
We set up a ceremony set outside for this, with our triangle arch as the focal point. A resin cow skull and horns with a dainty headdress, two flower arrangements with pampas grasses in were placed on the arch and we then added two white candle sticks to the side with moss balls that have fairy lights on. The chairs down the aisle had handmade mini dream catchers on and white lanterns down the aisle.
Table centre
We used a 3 foot artificial wisteria tree the bottom wrapped in lace with 4 white lanterns and foliage weaved in between. For the place settings we used doilies of pastel green and handmade tambourines. We think theses would make great wedding favours, on the chairs we used handmade mini dream catchers these looked simple but elegant.
Styling
A pink sequin table cloth was placed on a stack of crates, and we continued on our tree theme with our wish tree dressed with paper cranes in pinks and greens, mini white orchids and wishing tags were added. A large vintage bird cage on a white stand the cage was filled with moss and candles, a moss heart and lights with a mini skull on the top was place next to it. A glass dome with three vintage bottles and in them succulents, orchid and lavender. Mini moss LOVE letter topiaries on the top, the resin skull a mini bird cage and vintage vanity case card holder at the bottom to the other side our large silver framed moss table plan stands to finish this gorgeous lux look.
Bride
The bride wore a chiffon dress with a beaded band, a crochet band with orchid and glitter feathers round her hair. Her bouquet a loose style in pinks and white with pampas grasses to follow the theme through.
Colour palette
Light pink, grey, pale greens.
Flowers used
Dahlias, roses, spray roses, astilbe and pampas grass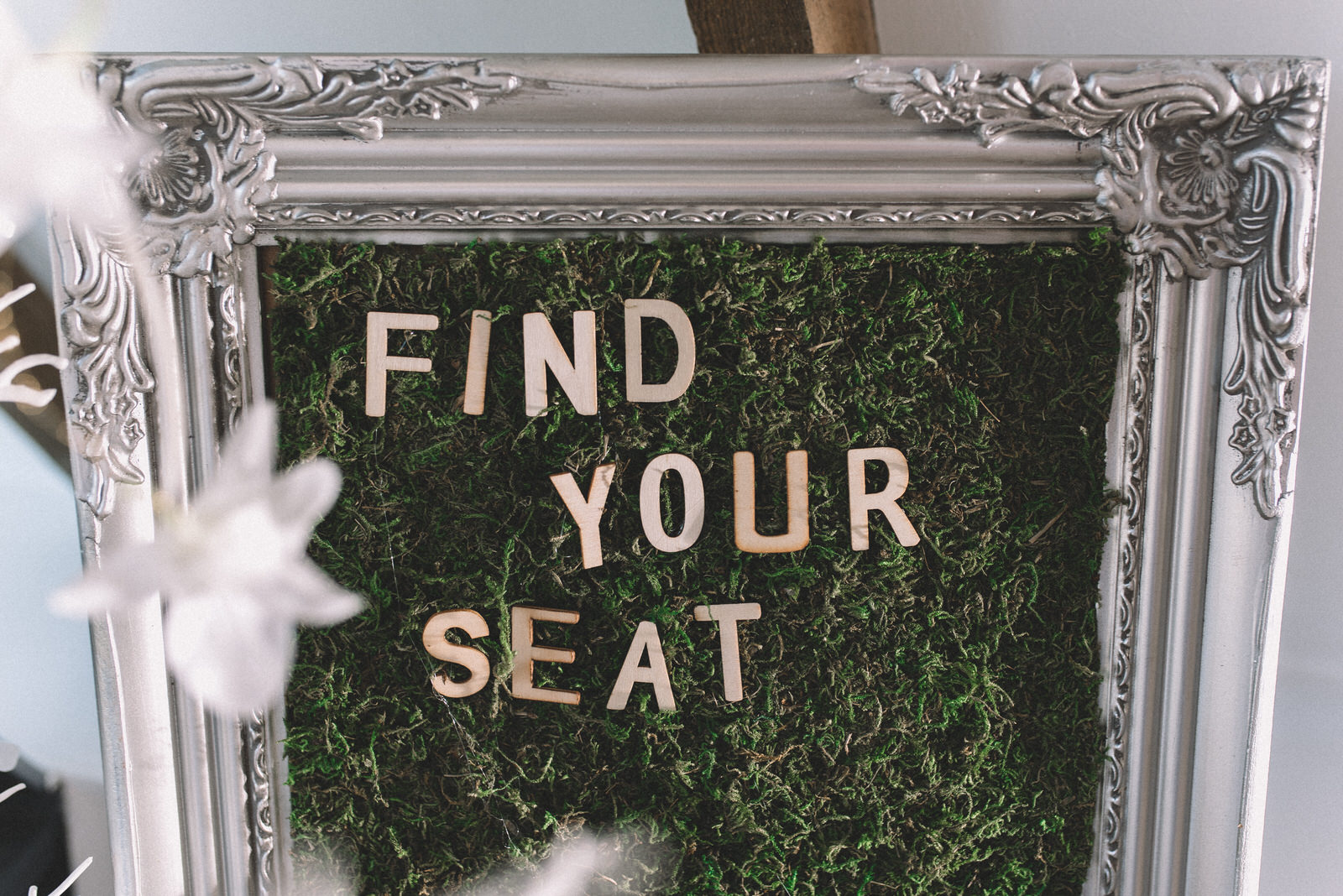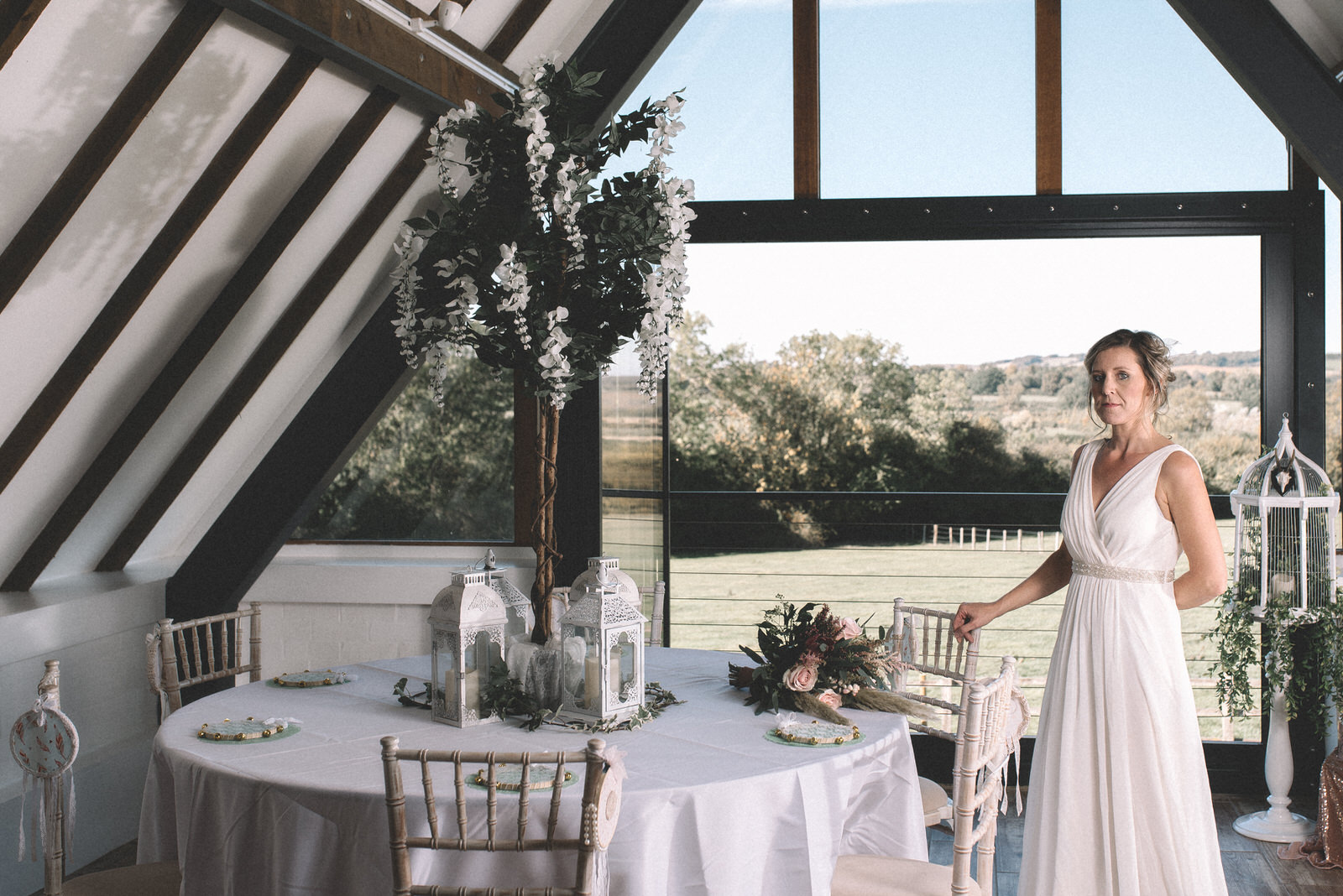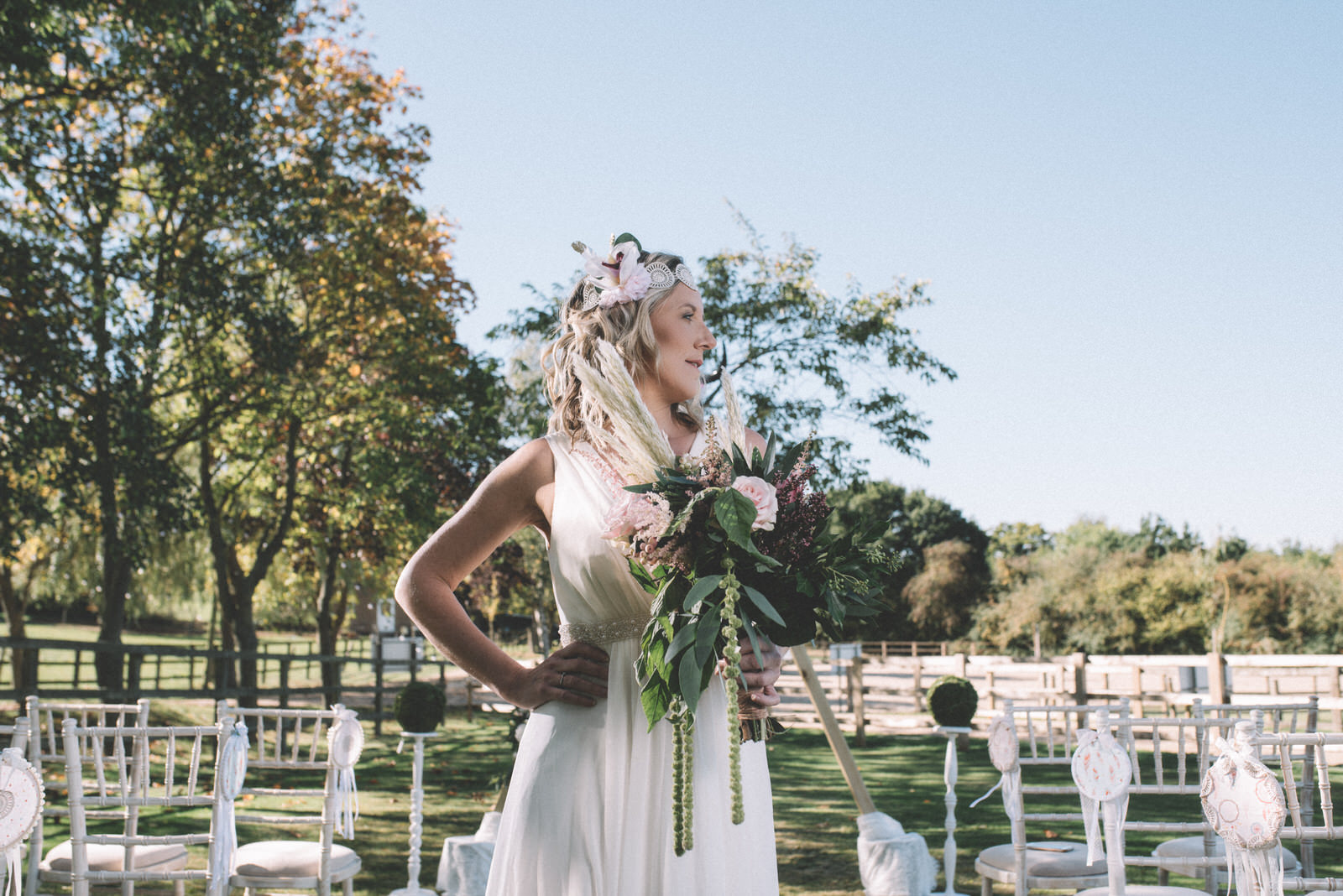 Bold | bright | loud & proud | vibrant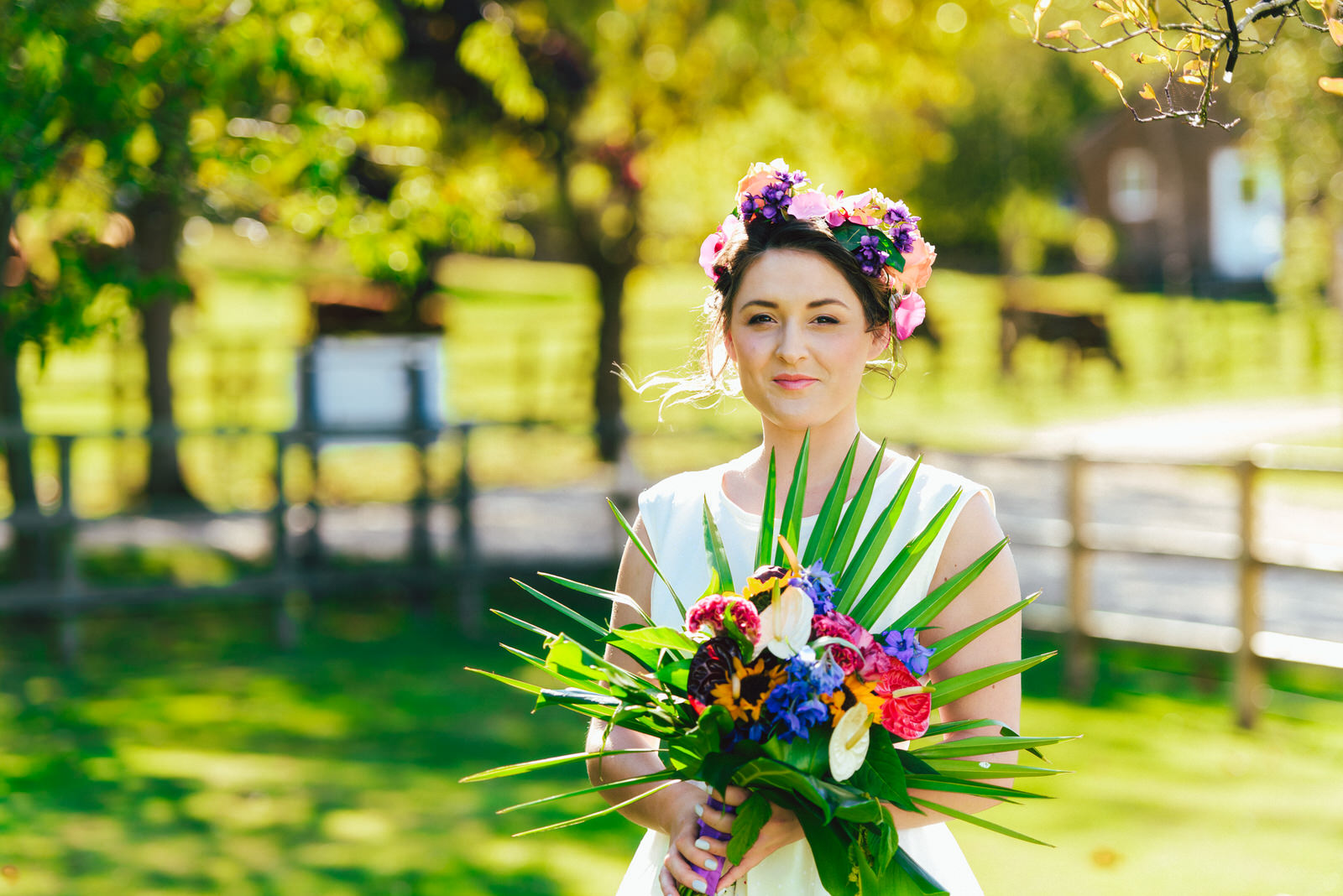 Table
For the table we made a large vase arrangement big leaves and bright flowers. Standing on three big artificial monstera leaves we used them as charges too I loved this look with hot pink orchids on the charges really brought the look together.
Styling
We dressed this section with stacked rustic crates with a bamboo table plan big leaves added for the table names and numbers and a corner arrangement of tropical flowers, a gold bird cage filled with silk bright flowers and a little parrot on top, a gold pineapple and flamingo and little flamingo LOVE letters finish this hot mix.
Colour pallet
Hot pink, lime, yellow, purple, blue, orange
Flowers used
Anthuriums, orchids, sunflowers, delphiniums, celosia, monstera leaves and palms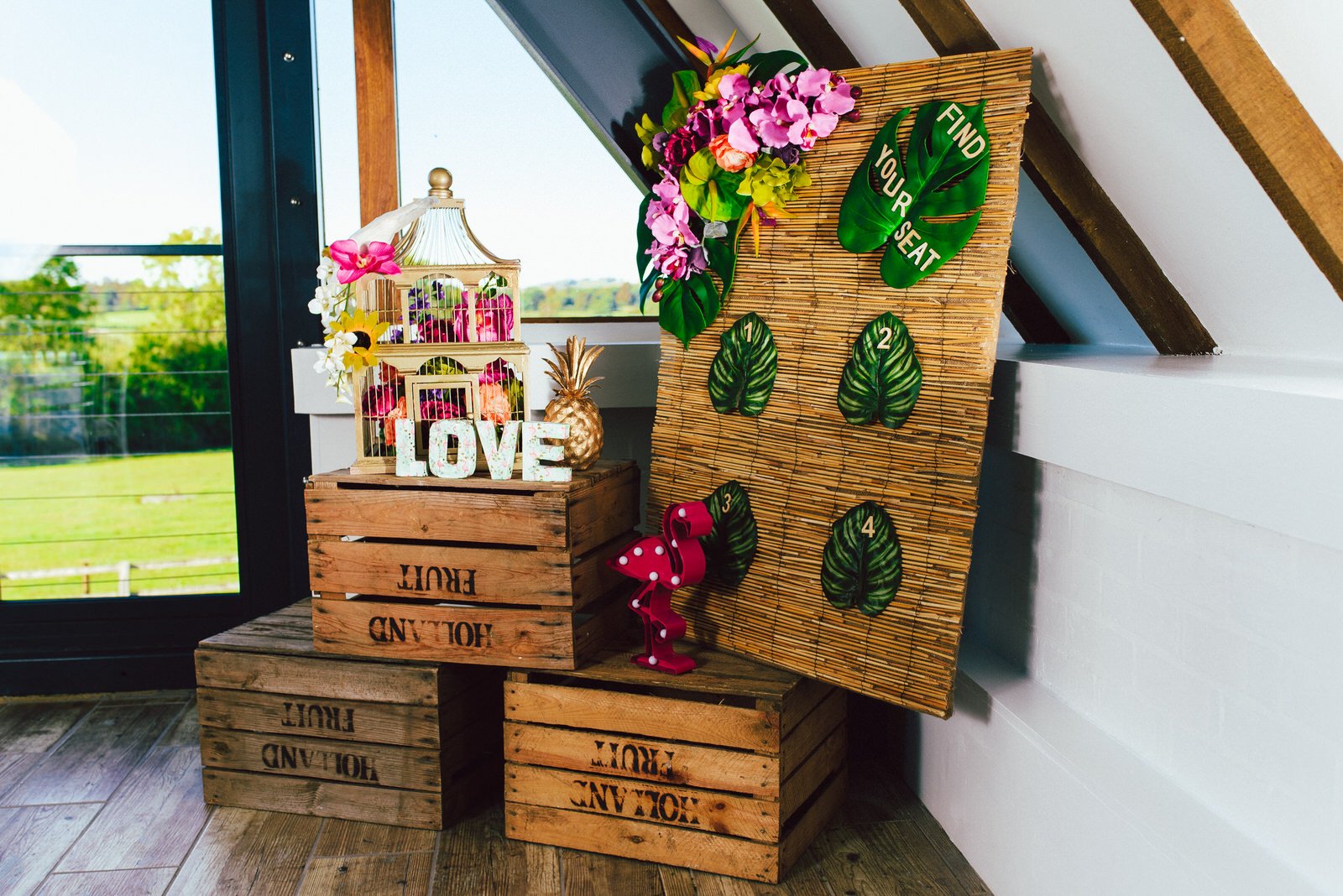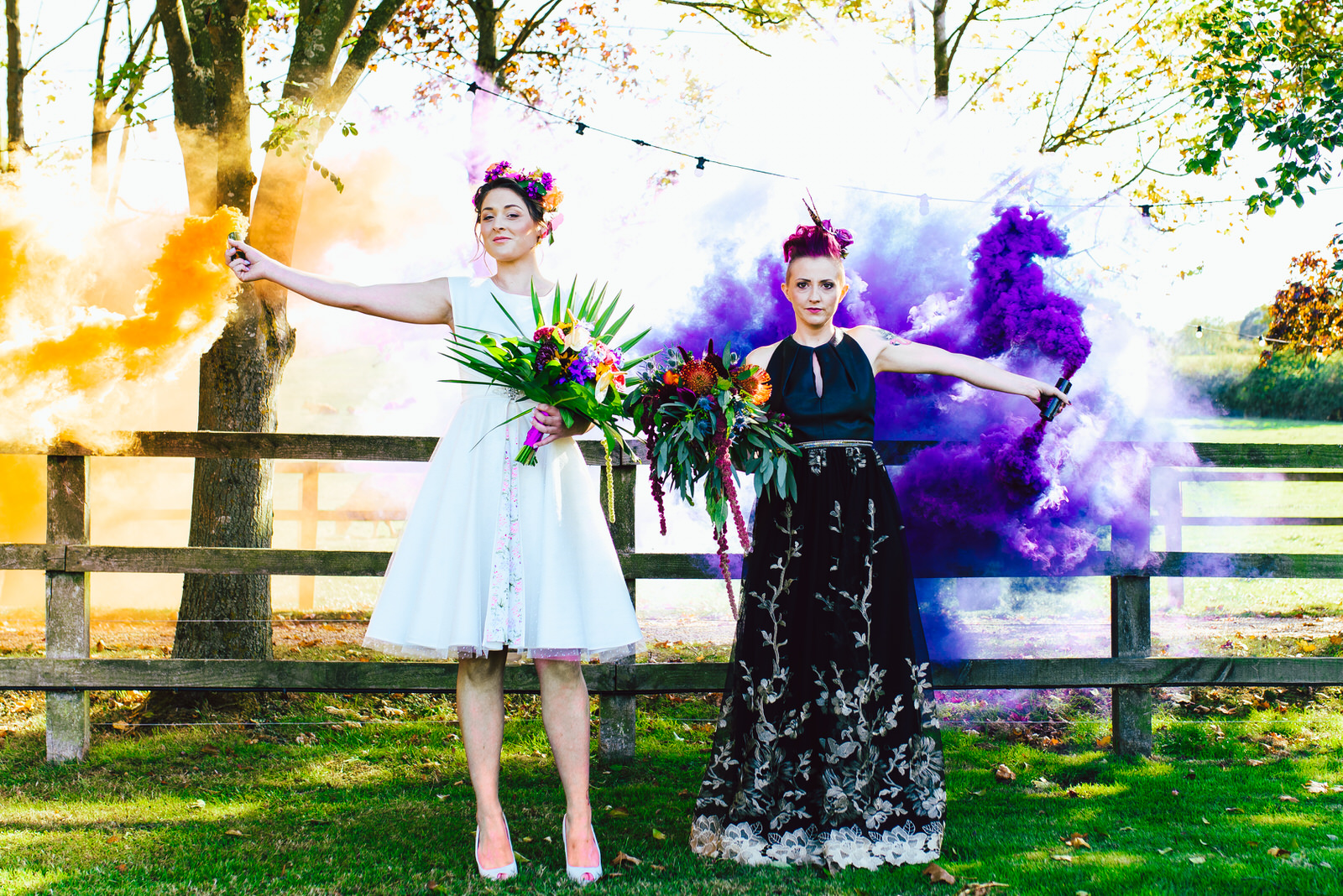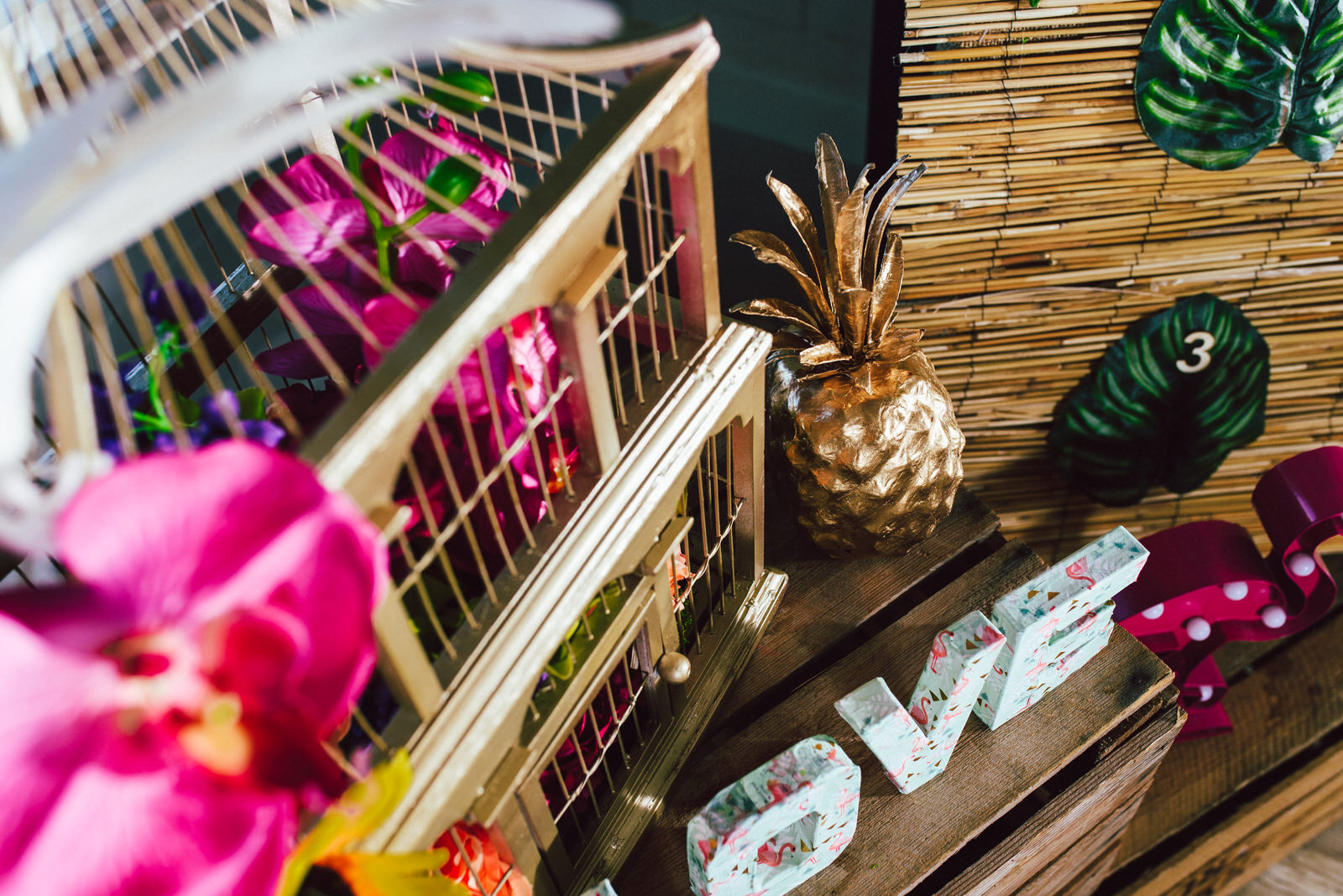 Natural | rustic | enchanted | magical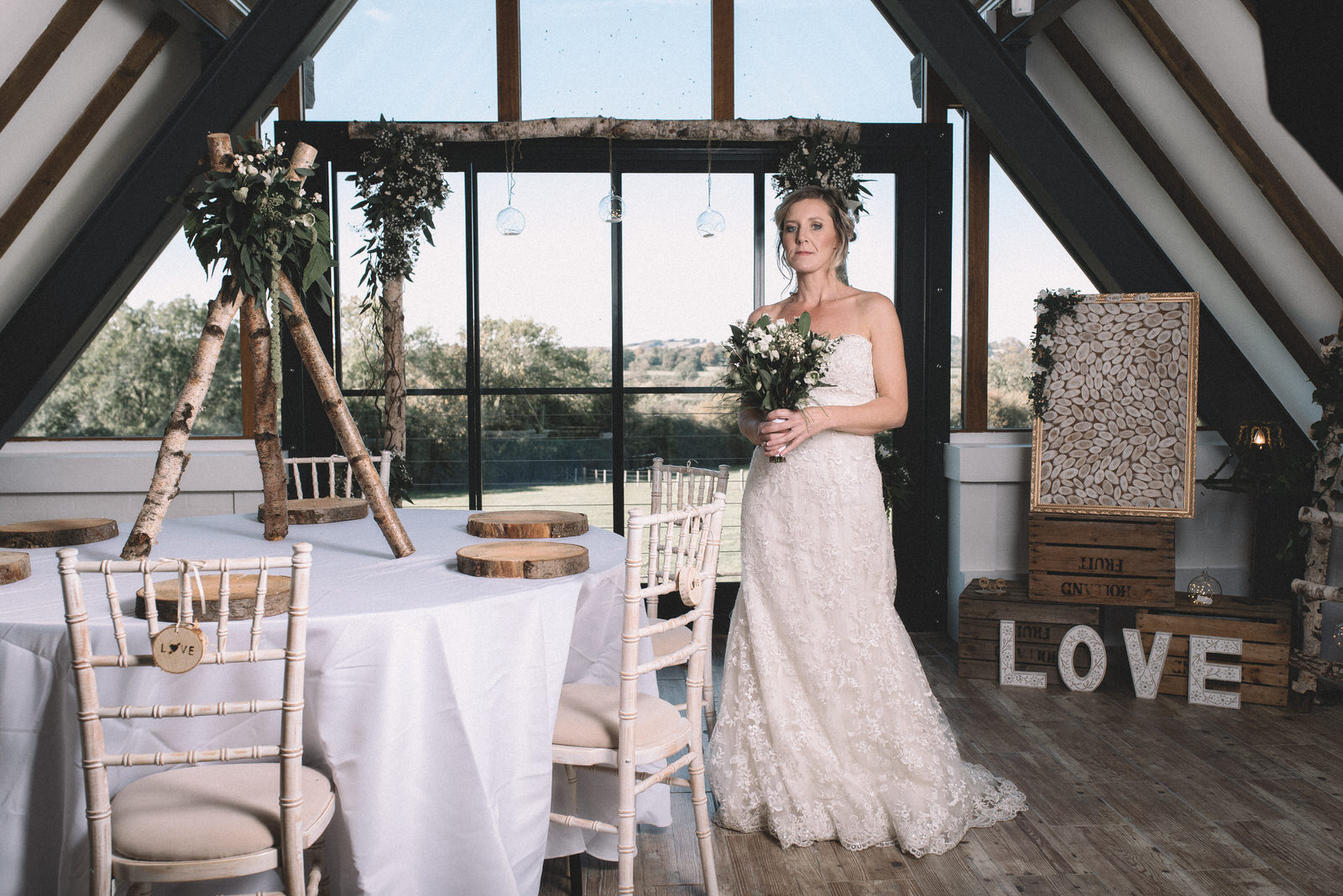 The woodland theme can be one of the most elegant themes using natural elements like wood, bark, moss, lots of foliage's, sticks, birch and willow teamed with glitter, candles and lights really enhance this look. We created a natural style using all these elements to bring the out doors in.
Table
We dressed the table with a 1m tall birch tripod with flowers on the top and birch slices as charges. We added small slices to the back of the chairs with burnt love letters into them this could be replaced with names for a great wedding favour and table name.
Styling
We used our crates in there natural state for this shoot, the table plan was put on the top this is made of wood slices and a gold frame some foliage and flowers in the corner. we added a moss covered lamp shade and and glass balls full of lights the birch ladder next to it with glass balls suspended and ivy wrapped around it white wood LOVE letters finish the look.
The arch
Our birch arch was dressed with green and white in both corners with glass balls handprint from the arch and lights inside; this simple but elegant look is timeless.
Bride
The bride wore at strapless elegant gown with bits of glitter / sequins on that catches the light perfectly. We made a comb with skeleton leaves dried flowers and twigs, this complimented the theme perfectly. The bouquet was all white and green; beautiful and dainty.